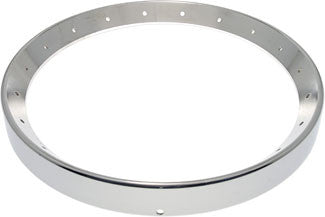 Tone Ring, Flathead, Pre-War Style, 20 Holes, Available Unplated or Nickel-Plated
Our very successful bluegrass standard flathead, introduced in 1986.  This tone ring has proven to be consistent and reliable in any Bluegrass situation and is our most popular tone ring.  It will fit the modern Gibson wood rim.
Use either a medium or high crown head with this ring.
Item# SUL-1
---
We Also Recommend