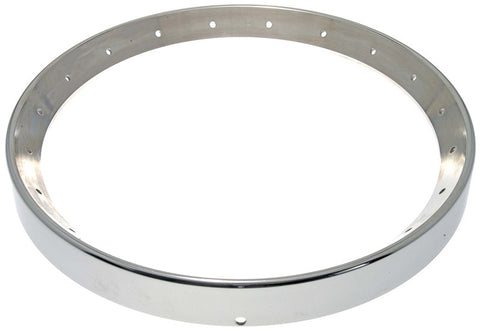 Tone Ring, Flathead, Tennessee 20, Pre-War Style, Available Unplated or Nickel-Plated
In the early 70's, there was a tremendous new interest developing in the five-string banjo. A whole new generation of truly outstanding musicians was emerging as well as some great instrument builders.  Thanks to new technology and the help of the research and development department of the government's Y-12 nuclear facility at Oak Ridge, Tennessee, a superior tone ring was developed.
The Tennessee 20, as this tone ring is known, has the strong, rich bass tones Bluegrass pickers need, as well as an upper register clarity which will please even the most critical chromatic players.
The Tennessee 20 weighs right around three pounds, which is considered ideal. It has the Y-12 re-curve "dinner bell tone" chamber, which was evident in the best pre-war flatheads. The Tennessee 20 is machined from .995 pure bell metal ingots.
The Tennessee 20 is a direct interchange with Gibson Mastertone banjos built after 1988 and can be fitted to almost any pot with an 11-inch diameter wood rim.  Earlier models may need some minor refitting of the wooden rim. The Tennessee 20 produces the bassy Crowe/Scruggs sound when fitted a little on the loose side. The wood rim should not be distorted with the co-ordinator rods. For best sound, only slight pressure is acceptable.
This tone ring has done more for the picker who desires the Scruggs-Crowe sound than any tone ring we have previously ever offered. 
Use either a medium or high crown head with this ring.
Item# TENN20 
---
We Also Recommend