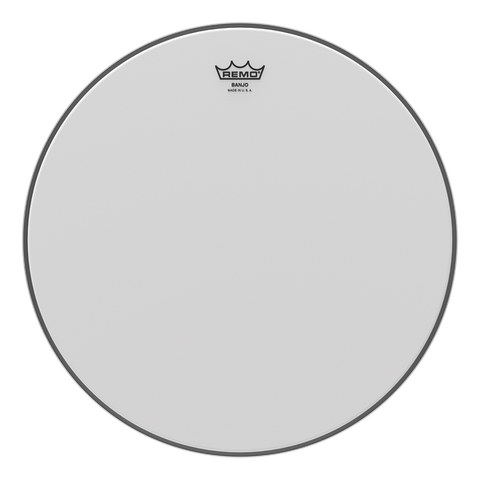 Remo Top Frosted 11" Banjo Head, Available in Low, Medium or High Crown
The Remo White Top Frosted is the most popular head made for 5-string banjos.  This head brings a crisp dry tone without too much sustain providing great clarity and note distinction.  Remo banjo heads are trusted by every major banjo manufacturer worldwide (including Sullivan Banjo Co.) due to their quality of construction, sound and performance.
Available in three collar/crown heights:  Low - 3/8" (Item# BJ1100-L1), Medium - 7/16" (Item# BJ1100-M1) and High - 1/2" (Item# BJ1100-H1)
Notes:
Archtop banjos use either a medium or low crown head.

Flathead banjos use either a medium or high crown head.  The high crown head allows the tension hoop to sit lower after final adjustments.  Under no circumstances should the top of the tension hoop be above the end of the fingerboard.

When the top of the tension hoop is drawn down below the playing surface of the head, it is very difficult to properly mount or adjust the tailpiece.  In some instances, this condition will case premature failure of the Presto tailpiece as it is placed in an abnormal upward strain.
---
We Also Recommend