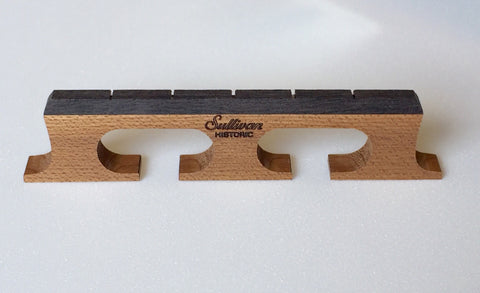 American Made Roasted Factory Floor Maple 5-String Banjo Bridge
What happens when you combine all the outstanding features of the two best-selling Sullivan banjo bridges?  You get the Roasted Factory Floor Maple bridge!  The snap and tone of the Factory Floor Old Growth Bridge along with the increased volume and sustain of the Roasted Maple Bridge all in one!
Sullivan Roasted Factory Floor Maple bridges use only grade A ebony for the top and are slanted on one face.
Available in 5/8, .656, and 11/16 in either standard or Crowe spacing and with a factory direct price of $20.00 each making this is one of the most cost effective upgrades you can get.  You will not be disappointed.
For more information on the roasting process, check out this post that Eric Sullivan wrote for the Derby City Calls website.
*Installation note:  The bridge should be installed with the Sullivan logo facing toward your peghead.
Item# SUL-RFB 
---
We Also Recommend