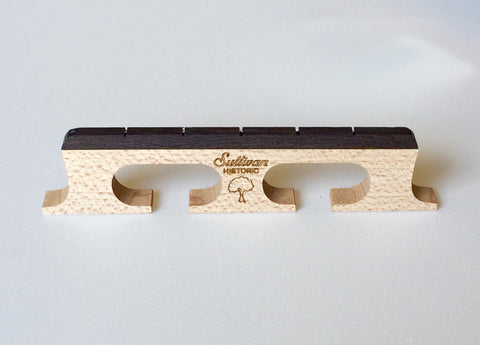 Factory Floor Old-Growth Maple 5-String Banjo Bridge
Sullivan Factory Floor bridges are made from old-growth maple salvaged from an 1870's factory when it was being torn down.  Imagine, all these great bridges were just trapped inside that flooring and air drying for the last 140+ years!  This is the same 500 year old wood we use in our Sullivan Factory Floor rims, and it is the perfect conductor of string energy transfer to your banjo head. Preferred by most professional banjo players who need just a little bit more, this bridge adds the snap, tone and volume that is critical for performance and recording. 
Sullivan Factory Floor bridges use only grade A ebony for the top and are slanted on one face.
Available in 5/8, .656, and 11/16 in either standard or Crowe spacing and with a factory direct price of $15.00 each making this is one of the most cost effective upgrades you can get.  You will not be disappointed.
*Installation note:  The bridge should be installed with the Sullivan logo facing toward your peghead.
Item# SUL-FFB 
---
We Also Recommend